Plan:
Eco Site!
Visit GreenGeeks
, Ranking
240
points
GreenGeeks shared hosting was offering by GreenGeeks hosting solutions provider, Eco Site! is a name of shared web hosting plan offered by GreenGeeks, GreenGeeks Eco Site! Linux shared web hosting plan is used cPanel control panel for customer interface and administration, this Eco Site! is cost you $3.96 USD per month if you go 24 Months payment deal. GreenGeeks provided unlimited space, unlimited monthly traffic and unlimited domains hosting. 1webhostreview.com is also provides GreenGeeks Uptime Monitoring information, we're start monitor GreenGeeks since Sat, 24-Apr-10, so GreenGeeks is monitored for where GreenGeeks average uptime is 99.88%, weekly uptime is 0% and average response time is 0.2817 second.
General features

Unlimited Web Space, Unlimited Monthly Bandwidth, Price $3.96 (24 Months), Unlimited websites hosting, Unlimited Park domains .

Support Scripts

PHP 4 or 5, Custom php.ini, PHP savemode=off, PHP Flag manager, PhpMyAdmin, PhpPgAdmin, CGI, CGI libraries, Perl5, FrontPage V2000-2002, SSI, Python, Ruby on Rails, JAVA .

Databases

Unlimited MySql, PhpMyAdmin, PhpPgAdmin .

Email

Unlimited POP3 email accounts, Unlimited SMTP, IMAP, email forwarder, Form-mail script, 2 types email Web-based, Catch all email accounts, Auto Responders, Unlimited mailing lists, email filter .

Tools/Utilities

Files Manager, User Panel(cPanel), Demo control panel, Website builder(SiteBuilder), Web space statistics, Bandwidth statistics, Custom error pages .

Uploading

Unlimited FTP accounts, anonymous FTP supported, Dreamweaver upload supported, Upload via web browser .

Supported file types

Flash, ShockWave, MIDI Steaming Audio Steaming Video, Real Audio, Real Video .

Pre-Scripts installer

Fantastico pre-scripts installer, Blog = WordPress-b2evolution-Nucleus, Wiki = TikiWiki-PhpWiki, Image Gallery = 4Images-Coppermine Gallery-Gallery, Ecommerce = CubeCart-ZenCart, WebBoard = phpBB2-SMF, FAQ = FAQMasterFlex, CMS, Hosting Tool, Moodle, Counter, Guest Book, Poll = Advanced Poll-phpESP-PHPSurveyor, HelpDesk = Help Center Live-osTicket-PHP Support Tickets-Crafty Syntax, Calendar =WebCalendar .

Accessibility control

Password protection directory, IP Manager, URL without WWW enable, URL Mask, Hotlinking protection, Error Log, .Htaccess .

Additional offers

Free website templates, 1 domain(s) for life, International domain, 30days Money back guarantee .

Support

24/7 support team, Live support, On call support .

Free promotes

.

Infrastructures

UPS, Own Data Center, FireWall, Backup power generator, OC48 network .

Uptime Review

Long run GreenGeeks Review Overall Uptime 99.88 %, Weekly uptime = 0 %
GreenGeeks Average response time = 0.2817 s, Since Sat, 24-Apr-10().
GreenGeeks Daily/Weekly Uptime, Response Time and Reliability Review.

1st/ Sat, 09-Oct-21

GreenGeeks, Daily Uptime = 0 % , GreenGeeks Response Time = 0 s..

2nd/ Sun, 10-Oct-21

GreenGeeks, Daily Uptime = 0 % , GreenGeeks Response Time = 0 s.

3rd/ Mon, 11-Oct-21

GreenGeeks, Daily Uptime = 0 % , GreenGeeks Response Time = 0 s.

4th/ Tue, 12-Oct-21

GreenGeeks, Daily Uptime = 0 % , GreenGeeks Response Time = 0 s.

5th/ Wed, 13-Oct-21

GreenGeeks, Daily Uptime = 0 % , GreenGeeks Response Time = 0 s.

6th/ Thu, 14-Oct-21

GreenGeeks, Daily Uptime = 0 % , GreenGeeks Response Time = 0 s.

7th/ Fri, 15-Oct-21

GreenGeeks, Daily Uptime = 0 % , GreenGeeks Response Time = 0 s.
GreenGeeks review: Eco Site! plan.
About GreenGeeks web hosting:
GreenGeeks is the professionally web hosting business company, starting business in 2004 and with currently having of shared hosting and reseller hosting. Highlights of them is to protect the environment by reducing energy consumption by using of electricity produced from wind turbines for supplemental power to the server. They called 300% green server with Certification and guarantees. GreenGeeks company is focused on reducing the use of Natural Resources to conduct their business.
GreenGeeks Datacenter:
GreenGeeks used networking equipment from Juniper edge routers and Cisco switches gain higher performance and bandwidth. Key equipment working is the completely redundant concept in order to prevent the devices failed.
GreenGeeks Customer service:
GreenGeeks the customer service department includes Knowledge Base & Frequently Asked Questions, Video Tutorials, Call Center with telephone number 1-877-326-7483, email and also offer a Live Chat that is a free service through Chat to discuss problems and report any error. Our review according to their Live Chat Service, we found that they providing efficient operator that ready to provide service for customers and guests at all times. This is very good and we think this thing is a good web hosting company must have.
GreenGeeks Hosting Control Panel.
GreenGeeks opted for a cPanel web hosting automation for their customers, which is one of the cPanel web hosting features management software that is popular and reliable hosting features.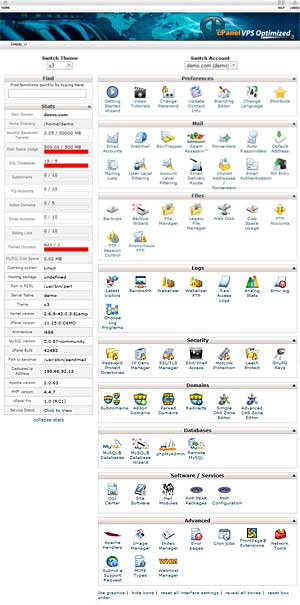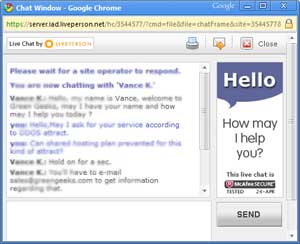 Greengeeks LiveChat
Greengeeks Unique visitors history graph

Contact GreenGeeks
1158 26th St. #446
Santa Monica, CA. 90403
USA.
Compare GreenGeeks Eco Site! plan VS :
There is no customer's review for GreenGeeks, Eco Site! plan yet.