Plan:
Ultimate
Visit GoDaddy
, Ranking
196
points
GoDaddy shared hosting was offering by GoDaddy hosting solutions provider, Ultimate is a name of shared web hosting plan offered by GoDaddy, GoDaddy Ultimate Linux shared web hosting plan is used GoDaddy control panel for customer interface and administration, this Ultimate is cost you $7.99 USD per month if you go 12 Months payment deal. GoDaddy provided unlimited space, unlimited monthly traffic and unlimited domains hosting. 1webhostreview.com is also provides GoDaddy Uptime Monitoring information, we're start monitor GoDaddy since Tue, 02-Dec-08, so GoDaddy is monitored for 9 years 29 weeks 2 days 7 minutes where GoDaddy average uptime is 99.8%, weekly uptime is 99.85% and average response time is 0.2314 second.
General features

Unlimited Web Space, Unlimited Monthly Bandwidth, Price $7.99 (12 Months), Unlimited websites hosting, Unlimited Park domains .

Support Scripts

PHP 4 or 5, Custom php.ini, PHP savemode=off, PHP Flag manager, PhpMyAdmin, CGI, CGI libraries, Perl, FrontPage V2000-2002, SSI, Python, Ruby on Rails, JAVA .

Databases

Unlimited MySql, PhpMyAdmin .

Email

1,000 POP3 email accounts, SMTP, IMAP, Unlimited email forwarders, Form-mail script, email Web-based, Catch all email accounts, Auto Responders, mailing lists, email filter .

Tools/Utilities

Files Manager, User Panel(GoDaddy), Website builder(Site Builder), Web space statistics, Bandwidth statistics, Custom error pages .

Uploading

Unlimited FTP accounts, anonymous FTP supported, Dreamweaver upload supported, Upload via web browser .

Supported file types

Flash, ShockWave, MIDI Steaming Audio Steaming Video, Real Audio, Real Video .

Pre-Scripts installer

GoDaddy pre-scripts installer, Blog = Geeklog-Lifetype-reBlog-Serendipity-WordPress , Wiki = MediaWiki-pmWiki-Twiki , Image Gallery = Gallery-4Image-Coppermine, Ecommerce = OS Commerce-Zen Cart, WebBoard = phpBB-SMF-Vanilla Forum, FAQ = phpMyFAQ, CMS, Counter, Guestbook = Advanced Guestbook, Poll = Advanced Poll, Chat, HelpDesk = PHP Support Tickets-Support Services Manager, Calendar =WebCalendar .

Accessibility control

Password protection directory, IP Manager, URL without WWW enable, URL Mask, Hotlinking protection, Error Log, .Htaccess .

Additional offers

Free website templates, International domain .

Support

24/7 support team, Live support, On call support .

Free promotes

$50 Microsoft AdCenter-$25 Google Adwords-$50 FaceBook Ad credit .

Infrastructures

UPS, Own Data Center, FireWall, Backup power generator, DDoS Protection, OC48 network .

Uptime Review

Long run GoDaddy Review Overall Uptime 99.8 %, Weekly uptime = 99.85 %
GoDaddy Average response time = 0.2314 s, Since Tue, 02-Dec-08(9 years 29 weeks 2 days 7 minutes ).
GoDaddy Daily/Weekly Uptime, Response Time and Reliability Review.

1st/ Sat, 16-Jun-18

GoDaddy, Daily Uptime = 100 % , GoDaddy Response Time = 0.0698 s..

2nd/ Sun, 17-Jun-18

GoDaddy, Daily Uptime = 100 % , GoDaddy Response Time = 0.0708 s.

3rd/ Mon, 18-Jun-18

GoDaddy, Daily Uptime = 100 % , GoDaddy Response Time = 0.0718 s.

4th/ Tue, 19-Jun-18

GoDaddy, Daily Uptime = 100 % , GoDaddy Response Time = 0.1197 s.

5th/ Wed, 20-Jun-18

GoDaddy, Daily Uptime = 98.96 % , GoDaddy Response Time = 0.0713 s.

6th/ Thu, 21-Jun-18

GoDaddy, Daily Uptime = 100 % , GoDaddy Response Time = 0.0724 s.

7th/ Fri, 22-Jun-18

GoDaddy, Daily Uptime = 100 % , GoDaddy Response Time = 0.0872 s.
GoDaddy review: Ultimate plan.
About GoDaddy: Since 1997, the GoDaddy Group of companies also includes Wild West Domains, Inc., a reseller of domains and domain-related products and services; Domains by Proxy, a private registration service; Starfield Technologies, a research and development affiliate; and Blue Razor Domains, a membership-based discount registrar .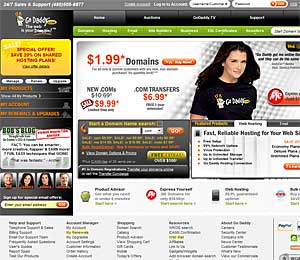 GoDaddy Unique visitors history graph

GoDaddy Contact :
Sales & Support (480)505-8877
Compare GoDaddy Ultimate plan VS :
There is no customer's review for GoDaddy, Ultimate plan yet.