Plan:
Web Pro Plus(25% Discount)
Visit AwardSpace
Coupon code is
FHF
, Ranking
198
points
AwardSpace shared hosting was offering by AwardSpace hosting solutions provider, Web Pro Plus is a name of shared web hosting plan offered by AwardSpace, AwardSpace Web Pro Plus Linux shared web hosting plan is used ZettaHost control panel for customer interface and administration, this Web Pro Plus is cost you $6.49 USD per month if you go 36 Months payment deal. AwardSpace provided 120 GB space, 2,000 GB monthly traffic and 32 domains hosting. 1webhostreview.com is also provides AwardSpace Uptime Monitoring information, we're start monitor AwardSpace since Tue, 09-Dec-08, so AwardSpace is monitored for where AwardSpace average uptime is 99.72%, weekly uptime is 0% and average response time is 0.4185 second.
AwardSpace Web Pro Plus plan overall rating from 1 user is 9.80/10

| | | | |
| --- | --- | --- | --- |
| Price | | Web Space | |
| Traffic | | Control Panel | |
| Features | | Softwares | |
| Performance | | Reliability/Uptime | |
| Bonus/Additional offers | | Customer Support | |
General features

120 GB Web Space, 2,000 GB Monthly Bandwidth, Price $6.49 (36 Months), 32 websites hosting .

Support Scripts

PHP 4/5/6, Custom php.ini, PHP savemode=off, PHP Flag manager, PhpMyAdmin, ASP, CGI, CGI libraries, Perl, FrontPage V2002, SSI, Python, TCL, Ruby on Rails .

Databases

30xMySql, PhpMyAdmin, Unlimited PostgreSQL .

Email

Unlimited POP3 email accounts, SMTP, IMAP, email forwarder, Form-mail script, email Web-based, Catch all email accounts, Auto Responders, mailing lists, email filter .

Tools/Utilities

Files Manager, User Panel(ZettaHost), Website builder(soholaunch), Web space statistics, Bandwidth statistics, Custom error pages .

Uploading

40 FTP accounts, anonymous FTP supported, Dreamweaver upload supported, Upload via web browser .

Supported file types

Flash, ShockWave, MIDI Steaming Audio Steaming Video, Real Audio, Real Video .

Pre-Scripts installer

Zacky pre-scripts installer, Blog = Nucleus-WordPress-b2evolution-geeklog, Image Gallery = Photo galleries, Ecommerce = Agora Shopping Cart-Zen Cart, WebBoard = Simple Machines-phpBB, CMS, Moodle, Counter, Guestbook = AdvancedGuestBook, Chat, HelpDesk .

Accessibility control

Password protection directory, IP Manager, URL without WWW enable, URL Mask, Hotlinking protection, Error Log, .Htaccess .

Additional offers

Free website templates, 1 domain(s) for life, International domain .

Support

24/7 support team, Live support, On call support .

Free promotes

.

Infrastructures

UPS, Own Data Center, FireWall, Backup power generator, DDoS Protection, OC48 network .

Uptime Review

Long run AwardSpace Review Overall Uptime 99.72 %, Weekly uptime = 0 %
AwardSpace Average response time = 0.4185 s, Since Tue, 09-Dec-08().
AwardSpace Daily/Weekly Uptime, Response Time and Reliability Review.

1st/ Wed, 28-Jul-21

AwardSpace, Daily Uptime = 0 % , AwardSpace Response Time = 0 s..

2nd/ Thu, 29-Jul-21

AwardSpace, Daily Uptime = 0 % , AwardSpace Response Time = 0 s.

3rd/ Fri, 30-Jul-21

AwardSpace, Daily Uptime = 0 % , AwardSpace Response Time = 0 s.

4th/ Sat, 31-Jul-21

AwardSpace, Daily Uptime = 0 % , AwardSpace Response Time = 0 s.

5th/ Sun, 01-Aug-21

AwardSpace, Daily Uptime = 0 % , AwardSpace Response Time = 0 s.

6th/ Mon, 02-Aug-21

AwardSpace, Daily Uptime = 0 % , AwardSpace Response Time = 0 s.

7th/ Tue, 03-Aug-21

AwardSpace, Daily Uptime = 0 % , AwardSpace Response Time = 0 s.
AwardSpace review: Web Pro Plus plan.
About AwardSpace: AWARDSPACE is a web hosting company that has two mother companies Zetta Hosting Solutions and AttractSoft GmbH, one of AWARDSPACE datacenters - LambdaNet in Kiel, Germany was providing 50 Gbits traffic capacity, professional air conditioning system (ETS 300 019-2-3 Class 3.1), fire pre-detection system, UPS (230V/48V) and a diesel power generator that are keep their clustered servers working smoothly.
Important note: sign up to AwardSpace from 1webhostreview.com you will get miximum 25% AwardSpace discount to all web hosting plans. You can redeem this special offer from AwardSpace exclusively from our site simply click this sign up link then follow the sign up step then you will asked optionally to put the promotion coupon code which is generally redeem 20%(from elsewhere), please take it out and replace by "FHF" the the new price will be calculated 25% off.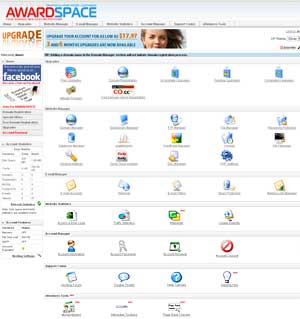 AwardSpace Unique visitors history graph

Contact AwardSpace Sales:
US Phone no.:
+1 (347) 223 5853
UK Phone no.:
+44 20 8 1234 790
email: sales@awardspace.com
Compare AwardSpace Web Pro Plus plan VS :
There is no customer's review for AwardSpace, Web Pro Plus plan yet.